VERONIKA ZAJAČIKOVÁ / born 1981 Prague
I am standing at the beginning again, trained curator and theorist, based in Central Bohemia land, waiting for new experiences.
Studies/
Faculty of Fine Arts, Atelier Performance prof. Tomáš Ruller, VUT Brno, (doctor's degree) – now
J.E.Purkyně University, Faculty of Art and Design, Curatorial Studies, Ústí nad Labem (2010 – 2013)
Palacký University, Philosophical Faculty, Theory and History of Visual Arts, Olomouc (2005 – 2010)
Internships & Trainee/
Tjeckiska Centret Stockholm, Stockholm, Sweden, Erasmus+ Traineeship (2020)
International Studio & Curatorial Program (ISCP) Brooklyn, 3 month residency, New York (2011)
2016 © COPY IT RIGHT! / Exhibition / Project dedicated to father of Video Art Woody Vasulka; Artists: Michael Bielický, Tomáš Mašín, Stanislav Miler a Václav Kučera, Radek Pilař, Tomáš Ruller, Lucie Svobodová, Pavel Smetana, Elen Řádová, Jaroslav Vančát a AVaIT (Roman Milerský, Petr Skala, Ivan Tatíček), Woody Vasulka, Steina Vasulka, Janka Vidová Žáčková, Petr Vrána, Peter Weibel; NoD Gallery, Experimental Space NoD, Prague
2015 SYMPOSIUM VIDEOART No.2 & Special / international thematic conference (M.Bielický, P.Weibel, The Vasulkas,T.Ruller, P.Vrána, L.Dolanová …), Experimental Space NoD, Prague
2015 SYMPOSIUM VIDEOART No.1 / public thematic conference with Czech video-art experts (Čiháková Noshiro, Dolanová, Ruller, AVIT, Vrána), Experimental Space NoD, Prague
Panoramic 360° Projections/
2017 OBJECTS ON HORIZON – Hic Sunt Dragones  by Pavel Karafiát (realtime 360°)
2016 CMYK  by David Možný (Sound by Aleff)
2016 BETWEEN THE WORLD AND ME  by Jan Šrámek & Dizzcock
2014 OCEAN  by František Pecháček
---
© COPY IT RIGHT! / 17.9. – 13.10.2015
Exhibition dedicated to the father of Czech video art Woody Vašulka, with an independent selection of videos from private archives of internationally renowned personalities Prof. Michael Bielický, Peter Weibel and leading figures from the Czech audio visual scene.
1994: year of the internet. The internet is considered as a landmark of art discipline such as video art. 1994 (1995) is defined also technologically up to date for use the video signal and magnetic tape. They were replaced by new digital technologies such as DVD format. The term video art originates from the late sixties and marked the formation that appeared at the same time in Europe and the United States. The very title of video art assumes marking the original analog recording medium – video tape.
In the second half of the 60s of the 20th century in Europe and the United States discovered a complex artistic creation called video art, experimental video art television, the new television, or even ,, Guerilla TV " genre lure of diverse special ,, art movements " moving art, as well as political and social activism. During this period, full of dynamic social, economic and cultural changes, many of the new artistic approaches formally and politically radical. Artists who in this period have chosen to work with video, were influenced by the Fluxus movement, their thoughts performative art, body art, in Arte Povera, minimalist sculpture, conceptual art, avant-garde music, upon experimentally film, contemporary dance and theater, and other cultural interdisciplinary activities and theoretical discussions.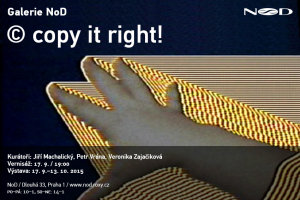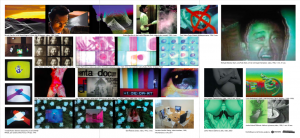 ---
SYMPOSIUM VIDEOART no.2 & Special / 1. – 2.10.2015
The Video NoD Gallery, a gallery focused on artistic creation experimenting with moving images, is preparing the second public symposium on video art – the VideoArt Symposium No.2 & Special in the theatre hall of the NoD Experimental Space. The October symposium will be personally attended by world video legend Woody and Steina Vašulka, which is also their last official visit to the Czech Republic before returning to Santa Fe (USA). As part of the two-day event, there will be presentations by university studios of new media, artists dedicated to the art of video and a moderated discussion with the participation of Woody and Steina Vašulka. There will also take place an online "video conference", during which world-class personalities Michael Bielický and Peter Weibel from the Center for New Media Research ZKM Karlsruhe, will present their contributions in the field of audiovisual art.
The symposium is accompanied by an ongoing exhibition in the NoD Gallery – "© copy it right!".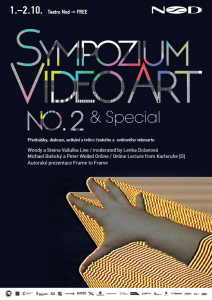 ---
SYMPOSIUM VIDEOART no.1 / 5.3.2015
The symposium will examine Czech video art from the perspective of history, format and technology and its significance in the Czech and global context. The views of the older and younger generations of the artists themselves will also be connected here. An open discussion will take place at the end of the evening.
The symposium guests will be artists: curator and art critic Vlasta Čiháková Noshiro, academic sculptor and performer Tomáš Ruller, art theorist and critic Jaroslav Vančát, audiovisual artist Petr Vrána, curator and theorist Veronika Zajačiková or, for example, theorist and curator Lenka Dolanová, who works for the Czech public mediates the personality and work of the father of Czech video art, a native of Brno Woody Vašulka, who founded the experimental theater The Kitchen in Upper Manhattan in 1971.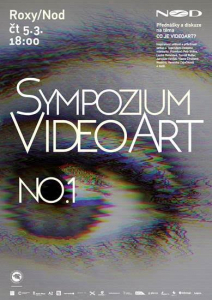 ---
VIDEO LECTURES / 2013 – 2014
A series of lectures from the history of Czech video art called VideoLectures has been running since October 2013 as an accompanying program for the Video NoD Gallery, the Experimental Space NoD in Prague. The authors presented their work in the multimedia space of the gallery, surrounded by projections. The audiovisual diversity and variability of the space subconsciously challenged the audience to personal interaction and co-create the unmistakable atmosphere of the event.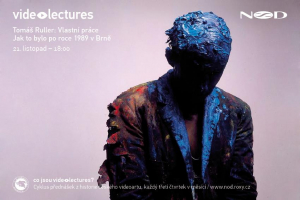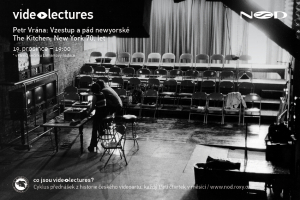 VideoLectures 17.10. / Petr Vrána: Video art the 80's in Germany and video art in the 90's in the Czech Republic – Media Archiv;
VideoLectures 21.11. / Tomáš Ruller: Art after the velvet revolution year 1989 in Brno, Beginnings of FAA BUT;
VideoLectures 19.12. / Petr Vrána: New York 70s – The Rise and Fall of New York's The Kitchen;