THE STORY OF THE VIDEO-MULTIMEDIA-PERFORMANCE STUDIO:
The aim of this exhibition is to document an entire decade of the studio's existence, to bring to light and to archive that which can be retrieved or reconstructed, and to present as wide a spectrum as possible of authors, artistic expression and diverse artistic approaches.
This is also an occasion, with the benefit of hindsight, to analyze and reflect theoretically on the artistic creation of this 1st generation of artists as well as on the pedagogical concepts and results achieved in these historical circumstances.
For these reasons it is important to remind ourselves of the most significant historical facts on the occasion of this jubilee, in particular the events that occurred ten years ago.
PRE-HISTORY:
The Velvet Revolution brought the longed for chance to found a Faculty of Fine Arts in Brno. The initial idea, supported by numerous Brno cultural personalities, to incorporate the new Faculty into the structure of the Janacek Academy of Music Arts (JAMU) proved unfeasible. JAMU was overwhelmed with internal problems related to separating the Faculty of Drama from the institution and thus The University of Technology (VUT) took up the initiative. This school had the strongest material, technical and personnel foundation, while at the same time it was undergoing a principal transformation characterized as "humanization of technology".
The Institute of Drawing and Modeling of the Faculty of Architecture, traditionally prestigious, became the core of the newly founded Faculty of Fine Arts. In the Summer of 1992, based on a proposal made by the first post-Revolution Dean of the Faculty of Architecture Prof. Ing. Arch. Ivan Ruller, which was later accepted and supported by a grant, applications were accepted for teaching posts at the new studios of the transformed Institute of Fine Arts led by professor and sculptor Vladimir Preclik.
The Preparatory Committee headed by Prof. PaeDr. Igor Zhor, CSc. specified "videoart and multimedia" and "action art and performance" among the yet missing disciplines.
In connection with my work for the Civic Forum Education Commission, and as chairman of the Association of Fine Artists and Theorists in Brno, I met with Radek Pilar, founder of the Video and Multimedia Section at the Union of Fine Artists. It was there, from 1990, that we defined - in a wider forum (in collaboration with Petr Sladecek, Petr Vrana, Stanislav Miller, Tomas Kepka, Jaroslav Vancat and others) - a strategy for introducing new disciplines into the education system. As a result Vladimir Preclik, at that time chairman of the Union of Fine Artists, contacted us concerning the founding of an electronic media studio. Radek Pilar, whose background was in television and film, defined his idea of a "school of visual, electronic and multimedia animation, film, photography, audiovision, computer graphics and television creation", while I was offered to represent the field of interactive and action art, defined as "multimedia performance", in the role of assistant.

TEN YEARS AGO
After Milan Knizak brought Michael Bielicky to the Academy of Fine Arts (AVU), where he founded the "School of Videoplastic Art", we formulated the first program for the new studio, briefly characterized as "Studio of Video and Multimedia Animation", in collaboration with Radek Pilar in spring 1992. Radek Pilar had already been working for the Academy of Film and Music (FAMU) in Prague. We understood multimedia animation in the widest sense of the term, including interactive and action art including performance. We decided to limit ourselves in this way, considering the fact that Associate Professor, Academic Painter Dalibor Chatrny, representing the Brno conceptual community, loosely grouped around the theorist Jiri Valoch, had been requested to found a second studio in the field of new disciplines. Chatrny tended towards constructivist and abstract processional forms (the first lecturer of this studio became Mgr. Pavel Rudolf) and proclaimed the conceptual studio principally anti-technology and minimalist - "we manage with pencil and paper".
Among the applicants, Peter Ronai, whom Radek Pilar hired as second assistant, unexpectedly took part. Cameraman Ales Zaboj became the first technician. In the beginning the studio consisted of one room, three easels with drawing boards, and brown wrapping paper. The task assigned to applicants to "videoart" was to draw a still life of old television sets, which later served as material for sequencing into a series for classic animation.
"Entrance at Kvetna Street", first VMP Studio website (by Vit Kraus)
BASES OF EXISTENCE (1992 - 1994)
Radek Pilar died unexpectedly at the end of the first semester. I was appointed head of the studio. As an addition to assistant Rónai, I hired Marian Palla, who strengthened the action section while creating a link to the Brno conceptual group, as a second assistant.
Of key significance for the studio, the institute and the whole Faculty's existence was the call to tender for commercial companies which attempted to privatize the Audio-Visual Center facilities and the building in Kvetná Street, which consisted of professional U-matic format analogue editing and television equipment built up in the eighties under VUT.
The Davay Company acquired the so-called "commercial" lease of all the equipment, material and videocassettes under the condition that they provide the new Studio with required services. The symbiosis expected by the Studio's management proved impossible. The conflict of interests between private commercial interests and the requirements of education and creative research activity, led to complications which ended with the Faculty, with great difficulty, repossessing a major part of the building and equipment. One of the studio's original and already depreciated linear editing devices is still in operation.
This came about through a Faculty of Fine Arts (FaVU) Production Center project, which was implemented with the assistance of manager Jaroslava Chalupová. Besides the administration of the premises and equipment, which were originally operated by more than 10 employees and external workers, she managed the Institute's organization regarding both education and research, and exhibition and creative activities. Zbynek Navrátil was appointed to the post of technician.
At that time (1993-94) we received the first grants, namely "Multimedia Interaction in a Digitized Environment" and "Integration of Modern Technologies and Ecoculture", which we used to begin building a local computer network. Besides an old Amiga subtitling device we inherited, and an old PC 286, we used several PC 486s as a base for the transition to digital technologies.
For a significant period of time from 1993, the premises, including the garden, became the first and only immovable asset of the new Faculty of which Vladimír Preclík became the first Dean. At first, we shared these premises with the Studio of Conceptual Trends, which soon moved into new and bigger provisional spaces (at the Purkyně Student Hostel) where, when Dalibor Chatrný left FAVU for AVU, Peter Rónai began to teach. Petr Váša filled the vacant post of lecturer who left a deep impression through his workshops of eurhythmy, accompanied by collective public performances (e.g. in the Anthropos museum, at the House of Arts, at the Leitnerova Club, at the Sýpka Gallery and in the St. Agnes Cloister of the National Gallery in Prague).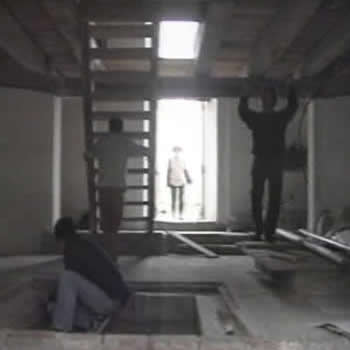 "Five Games", performance by "?!?" group, Sýpka Gallery, Vlkov 1994
From 1992, the entire studio participated regularly in symposiums dedicated to new media organized by the Goethe Institute in Prague, in workshops organized by the Academy of Fine Arts, and since 1993 we have taken part in the Hermit Foundation symposiums organized by Miloš Vojtěchovský at Plasy Monastery. Since 1994 Marian Palla has arranged open-air activities with the students and visited the Sýpka Gallery regularly.
THE VAŠULKAS & THE MULTIMEDIA LABORATORY
As early as Autumn 1992 we welcomed Woody and Steina Vašulka to Květná Street. Woody presented their interactive anthology, designed for Ars Electronica "Pioneers of Electronic Art", on laser discs for the first time in the Czech Republic, and Steina performed with her electronic violin which controlled a videoprojection. Petr Vrána from Frankfurt jovially presented us with a plaque of the recently-established Media Archives, and Woody donated, as the first acquisition, copies of archive video material that he brought with him. All that for a pot of homemade goulash and a keg of beer.
The enthusiasm of new possibilities led Woody to the idea of establishing a European experimental base in Květná Street, in addition to his laboratory in Santa Fe. In 1993 he relocated part of his equipment here with Bruce Hamilton, his assistant whom he paid from his own resources, laying the foundation for the Multimedia Laboratory as a research center.
At first his role was that of visiting artist, later on I managed to employ him as Head of the Laboratory and two years later to obtain the official post of "Visiting Professor" for him. By that time, he was already leaving for New Mexico and Japan because we had not received the institutional and financial support needed for the Center's development.
Nevertheless, in 1993, using the Multimedia Laboratory, he completed and presented the "Theater of the Hybrid Automata" at the INVEX trade fair. A year later, the world premiere of one of the pieces in his "Brotherhood" series was made here.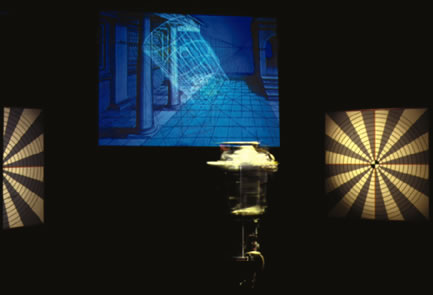 Woody Vašulka "Theatre of Hybrid Automata", Invex, Brno, 1993
Our production team coordinated presentations at V2 in Rotterdam, Europe Europe at the Kunsthalle in Bonn and at the Zentrum für Kunst und Medien in Karlsruhe.
The upcoming Multimedia Laboratory team expanded to include Stanislav Filip for hardware and programming of special applications, Dalibor Vlašín from Czech Television as part-time manager of Television equipment, and Luděk Skočovský as network designer and manager. In the field of sound and mechanics, the Laboratory's experimental activity was supported by Jiři Dostál, an all-round technician. Thanks to the "Multimedia Laboratory Project" we acquired the first SGI Indy station which we used as a server and an optical Internet connection in 1994.
IN CONTEXT (1994 - 1996)
Besides public presentations of semester works and graduate exhibitions, the implementation of exhibition projects, in which all students participated, became an integral part of the curriculum. In the scope of the studio's diverse activities students such as Jennifer de Felice and Zdeněk Mezihorák played an important role by enriching and classifying the media archives; Jennifer and Světlana Kulíšková made video documentation of various events including the Fort Sztuki Symposium in Krakow. We made outdoor performances and took part in open-air symposiums, designed for art schools, at the Klenová Castle near Klatovy.
The entire studio, including all students and teachers, presented their works publicly for the first time at the "Czech Electronic Image" exhibition at the Manes Gallery in Prague (1994) and at the National Technical Museum. A parallel new media exhibition on "Nature in Movement", on which we collaborated with Vlasta Čiháková-Noshiro, took place on the upper floor of the Mánes Gallery. Here, for the first time in Prague, Woody Vašulka, Garry Hill, Christa Sommerer, Peter Weibel and Betyna Gruber exhibited with Czech and Slovak artists who worked with new media.
In 1994, we participated in organizing the Brno presentation of the international "Video-Vidím-Ich sehe" exhibition organized by Katarina Rusnáková at the Brno House of Art, and for which we produced the video sampler.
The Studio was visited by many foreign personalities. As early as Autumn 1992, Julian Alvarez brought Catalonian Videoart from the Video archive in Kassel. In 1994 Sylvie Marchand from the Academy in Poitiers presented a project called "Artists On-Line", Don Foresta from Paris held lectures on "Multiplied Worlds" and Paul de Marins from the Exploratorium in San Francisco presented his "Sonic Art". In 1995 Chris Hill from Buffalo brought with her the Video Data Bank anthology of the first decade of American videoart and later she began working here for a longer time as a visiting professor. Before taking part in the Documenta exhibition in Kassel, Brian Springer introduced himself as a satellite pirate.
In 1996 Brian Connolly and Alistair Mac Lenan from the University of Ulster, Belfast presented Northern Irish performance and Kristine Stiles from Duke University, Durham, lectured on "Destructive Art".
We established contacts with the Institute for New Media in Frankfurt and Monte Video Time Based Arts in Amsterdam. We made excursions with students to the Multimediale in Karlsruhe, Ars Electronica and the Offenes Kulturhaus in Linz, the Kunsthalle in Vienna to see a Garry Hill exhibition, and to the Museum für angewandte Kunst to see a Chris Burden exhibition. We established direct contacts with the Akademie der bildenden Künste in Vienna and the Kunsthochschule für Medien in Köln. We also participated in the Videoforum Ostranenie at the Bauhaus in Dessau. In the period 1993-1996, we attended the European Media Festival in Osnabrück regularly. These broad activities were reflected in the results of our students, for example, the video "We see only what we want to see" by Jozefina Slezáková was selected in 1996 for the main program in Osnabruck. A series of collective student video presentations took place, including Media Soup (1994) organized by Jennifer de Felice, and performance evenings at clubs Mersey, Skleněna louka and Mýdlo in addition to various projects presented at the Vaňkovka Factory (1995-96).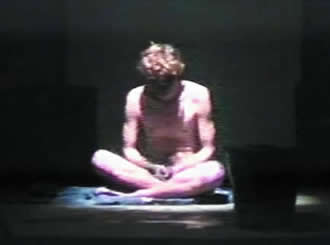 David Burk, performance, Skleněná louka, Brno, 1995
One of the first students to have a solo exhibitions was Pavel Hart, who organized a Virtual Reality exhibition in 1994 at the Mistrovský manor. Later on, Nadja Slováková presented her work at the Ambrosiana Gallery (1996), Zdeněk Mezihorák participated in an art exhibition of the youngest generation entitled "Trial Operation" organized by Jana and Jiří Ševčík at the Mánes Gallery (1995) and Jennifer de Felice, Paul Lerch and Filip Cenek exhibited at the Jewish Museum in Prague (1996).
HI-TECH / ART
In the period between 1994-1997, in close co-operation with Michal Klimeš, director of the Silicon Graphics Company, we organized a series of annual international exhibitions and symposiums dedicated to the art of new media.
In the period between 1994-1997, in close co-operation with Michal Klimeš, director of the Silicon Graphics Company, we organized a series of annual international exhibitions and symposiums dedicated to the art of new media.
In 1994 Stelarc presented and performed his "Third Hand", his premier in the Czech Republic, at the HI-TECH/ART Moravian Gallery opening along side, Peter Weibel with his interactive installation "Four Worlds", Jeffrey Shaw with his "Virtual Museum" and Woody Vašulka with his aforementioned interactive "Brotherhood" environment. Michael Bielický from the Academy of Fine Arts exhibited with his assistant Petr Čermák from FAMU, Lucie Svobodová and the popular Jan Hammer, from FaVU, the retrospective of Woody Vašulka's and Radek Pilař's video creation, and in addition to my work we presented an overview of VMP Student works. Gideon May from the ZKM (Zentrum für Kunst und Medien) Karlsruhe, Marcus Fix from INM Frankfurt am Main, as well as Stelarc, from Australia, and Woody Vašulka participated in the symposium. SGI sponsored the exhibition with a significant budget and lent us their most powerful ONYX station.
In 1995, at the Moravian Museum and in the Center of Experimental Theatre, Steina Vašulka performed live, Homer Flynn presented the Freak Show CD-ROM on behalf of the Residents, and students Petr Bradáček and Zdeněk Mezihorák presented a performance taking advantage of a software error. Besides Martin Spanjaard's robot and VR by Maurice Clifford (USA), installations by Lucie Svobodová and Michal Gabriel, Stanislav Filip, Lubor Benda, myself, as well as by all VMP students, together with selected students from Michael Bielický's studio were presented. At the Symposium presentations were made by Chris Hill (USA), Keiko Sei (Japan), Michael Klein (Germany) and Martin Spanjaard, (Netherlands).
At the turn of 1995/1996 the Soros Center for Contemporary Art in Prague organized a similar one-off exhibition entitled "Orbis Pictus" at the Valdštejn Riding School, providing a spectacular, clearly-arranged catalogue of Czech new media art. Regrettably, we have never acquired the funding to produce a similar catalogue for HI-TECH/ART. The exhibition was prepared by a similar preparatory team including Ludvík Hlaváček, Miloš Vojtěchovský, Woody Vašulka, Keiko Sei, Marta Smolíková, Michael Bielecký, Jenifer De Felice and others.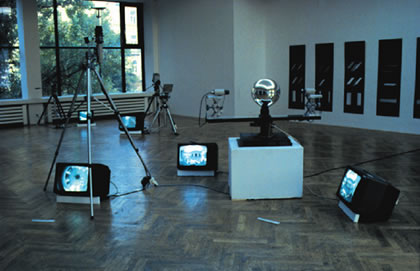 Steina, installation view, House of Art, Brno, 1996
Since 1996 the Brno House of Art, headed by Pavel Liška, has been the third co-organizer of HI-TECH/ART. The major part of the installation on the upper level was dedicated to a retrospective of Steina; part of which was thanks to Miloš Vojtěchovský, was relocated to the Veletržní palac in Prague a year later. On the ground floor Stanislav Filip, Jennifer de Felice, Lucie Svobodová, Pavel Kopřiva and Martin Janíček presented interactive installations, Peter Rónai and Martin Palla presented three dimensional objects, Nadja Slovak presented her digital prints, Luděk Skočovský, Silver, Skynet and RadioPrague presented www projects and Monika Karasová, Federico Diaz, Pavel Hart and Marek Mařan presented videos. Josef Kelemen, Martin Šperka, Terminal Bar and Živel participated in the symposium.
We modified the concept of the thematic exhibition in 1997, which was curated by Jennifer de Felice. Under the title "Symptoms: Disease and Home Remedies" Orlan (F), Vergessen (INT), Markus Kaech (CH), Paul Johnson (USA), Harwood (GB), Lubo Stacho (SK), Veronika Bromová (CZ) and other representatives of contemporary trends including the youngest generation and students exhibited.
FURTHER DEVELOPMENT (1995 - 1997)
In Spring of 1996 a change in the assistant posts took place. Marian Palla left for the Concept studio and Richard Fajnor (whom Rónai brought earlier as his graduate in place of Pavel Rudolf) joined VMP. Fajnor engaged his students in further activities at the Moravian-Slovak border, e.g. Barla in Nitra and Medzi in Skalica, traveled with the students to Osnabrück, and oversaw the presentation of their works in places such as Muczarnok in Budapest. When Petr Váša took his leave, Lubor Benda took his post for a short time and connected the Studio with the activities of the Association of Virtual Reality.
After him, Dana Recmanová, Jaroslav Vančát, Miloš Vojtěchovský and Keiko Sei alternated at various posts. At that time, Chris Hill was a frequent visitor, Michael Delia led workshops in sound sculpture and performance, Nick Collins, Phil Niblock, Maria Thereza Alves and others visited the Studio. Daniela Veškrnová was appointed production manager, with the perspective of producing the Faculty Gallery which was in preparation. We indirectly participated in the SCSU project "Art in Public Space"; under the leadership of curator Miloš Vojtěchovský we helped prepare the "Dawn of the Magicians" exhibition for Jaroslav Anděl, director of the Modern Collection of the National Gallery, and with Lubor Benda we participated in outlining the Flusser New Media Center.
In an attempt to calm the situation which arose as a result of the dramatic FaVU elections when Vladimír Preclík was not re-elected (which included Peter Rónai's candidacy, Milan Knížák's calculated attempt to gain the position and the Rector's proposal to abolish the Faculty), Igor Zhoř was appointed Dean of the Faculty.
He immediately began preparing the necessary changes in the Faculty's internal structure, with the aim of securing Faculty stability. His idea was to put the Studios on par with Departments and to divide them internally into Divisions with associated rooms and laboratories. He envisaged the separation of the VMP Studio into a Video and Performance Section, both of them to use the multimedia laboratory jointly.
COMPLEMENTARY COURSES
In order to broaden the Faculty's cultural horizons and the general level of education in the spirit of universalism, we have always put emphasis on complementary teaching and the development of a network of external teachers. The quality of the individual personalities and the spectrum of their skills formed the character and the quality of the entire program of study. Of the numerous fellow teachers whose presence was often acquired with great difficulty, I would like to mention the present Rector of Masaryk University, who lectured on informatics; Professor Ivo Serba of the Faculty of Electrical and Electronic Engineering, who introduced and taught computer science; the course of special technologies led by Jan Viktorin, the present Vice-Dean of the Faculty of Architecture; Václav Cejpek, the present Dean of the Faculty of Drama at JAMU, who lectured on dramaturgy, directors Rudolf Chudoba, Jiří Vanýsek, Zdeněk Plachý, Jiří Šimáček who alternated in lecturing on film and TV direction; composers Martin Dohnal and Jaroslav Šťastný, who lectured on musical poetics; musicians Rudolf Růžička, Pavel Fajt and Martin Burlas from Bratislava, who lectured on acoustics and sound; poet Jiří Kuběna who led a seminar on literary poetics, Prof. Kožmín from Masaryk University, who lectured on the history of literature; archeologist Jan Jelínek, who lectured on cultural anthropology, and anthropologist Vladimír Novotný on morphology and anatomy; Blahoslav Rozbořil and Josef Daněk, who lectured on sociology and socioart, Vladimír Kokolia on calligraphy, Chinese master Zhai Hua on Taiji, Tereza Skoumalová from Prague on psychophysical training; Vlastimil Marek from Prague, who lectured on the concepts of life style, publisher Martin Mrskoš, who lectured on hermetic sciences, translator Petr Patočka on mythology, Bohuslav Blažek on the theory of new arts, Jan Keller and Prof. Šmajs from Masaryk University on ecology; Peter Rezek and Antonín Kosík from Prague on philosophy and theory of art, composer and painter Vladimír Franz from Prague, who lectured on interdisciplinary interaction, painter and performer Vladimír Havlík from Olomouc, who lectured on work with color, Stanislav Zippe, Vice-Dean of the Faculty of Architecture in Liberec, on work with light, Pavel Liška, Director of the House of Art, who lectured on contemporary art; Ján Zavarský from the Faculty of Drama at JAMU, who lectured on stage design, Jan Konečný on architecture, astronomer Jan Holan on natural sciences; for aesthetics, we engaged Petr Osolsobě from the Philosophical Faculty of Masaryk University, who was later replaced by Rostislav Niederle. Lecturing was agreed upon with political scientist Pavel Barša from the Central European University, who was temporarily replaced by philosopher Josef Dokulil from Masaryk University; other professors and courses included; František Lesák from Vienna lecturing on model and geometry; Stanislav Zippe, Vice-Dean of the Faculty of Architecture in Liberec, on work with light and Radek Horáček from the Education Faculty of Masaryk University on Fine Art education. Miloš Vojtěchovský was extremely active involving numerous other personalities, (from abroad as well), to his optional lecture series.
DIVISION OF THE STUDIO
After less than half a year in this stressful position, Prof. Zhoř died suddenly at the end of 1997. At the beginning of 1998 I was elected Dean of the Faculty with the intention of following Prof. Zhoř's program. However, the Faculty's internal situation became ripe for an alternative solution. Priority was given to the classical structure, i.e. preservation of the studios as basic units grouped in seven departments and three Institutes, with the aim of gradually achieving their balance. According to the original plan, each of both disciplines of the Institute of new disciplines should be divided into three studios. Conceptual trends into Intermedia, Environment and Photo. The opening of the Photography Studio, which was recommended in the evaluation procedure (Veronika Bromová and David Miller (USA) were tentatively contacted), had to be postponed for economic reasons. For that reason I temporarily incorporated Photography - oriented towards digital, manipulated, performance and conceptual forms - into my studio which carried the name "Performance-Photo". Given the availability of excellent technical equipment, personnel and the extensive collection of photographs at the Moravian Gallery, where history and theory were represented by Antonín Dufek, I expected it to soon gain independence.
A natural connection developed between the new VMP Studios headed by Keiko Sei and Lucie Svobodová; entrance examinations and semester works were presented in a friendly atmosphere, we co-operated in public presentations, even outside FaVU, e.g. in a series of VMP evenings entitled "Golden Ship", in the "Crossings" exhibition at the Prague Rudolfinum, at the Festival of New Media in Cheb and at the symposium "Absence and Translocation/Art-Society-New Media" at AVU and the National Gallery in Prague.
Work by students Nadja Slovak and David Burk were included in the "Body in Photography" exhibition, organized by the Prague House of Photography. Films by Filip Cenek were accepted into the film archives of the George Pompidou Center in Paris and, together with works of Nadja Slovak, Zdeněk Mezihorák, Marek Mařan and Zdeněk Závodský, were included in the Anthology of Video and Experimental Film edited in co-production with the Center for Contemporary Art, the National Gallery and Divus in Prague.
We shared all technical equipment, the students had free access to both studios and, if needed, could consult with any VMP teacher. For this reason, several students, who were not formally in my studio but whose work I consulted on and indirectly influenced, were invited to participate in the exhibition.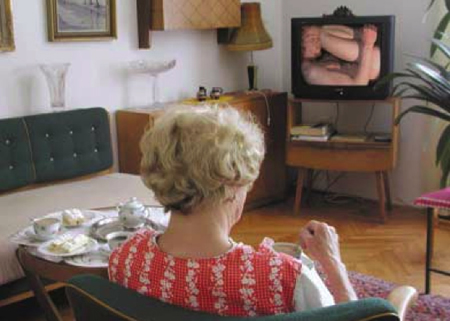 Michal Mariánek "Embryo", action, Květná Street, remake 2001
I accepted Petr Herzán and Tomáš Hrůza to the VMP Studio who at registration enrolled in the newly opened studio headed by Keiko Sei. In a similar way, performer Prokop Holoubek, whose activities were applicable to all categories, and Michal Mariánek, who at the time was in Keiko Sei's studio, consulted his work with me and finished its digitalization in Václav Stratil's studio. Typical for this period were many collaborative works, e.g. those by Jozefa Slezáková and Vladimír Vaca, Zuzana Řezníková and Jakub Deml, Zuzana Růžičková and Ladislav Železný. Guest student Ema Dosoudilová cultivated her ecological work on Května's overgrown tennis court.

Ema Dosoudilová "Space for..." environment, Květná, 1998
I managed to bring - thanks to Steina - Big Eye and Imagine software for multimedia interaction in real time, developed by Tom Demeyer at STEIM in Amsterdam from the Techne & Eros Workshop at the Art Institute in Santa Fe; I also brought in specialist Blithe Rile, who instructed the students and the teachers of the Faculty on how to use it. We obtained a new Mac G4 in order to be able to work with the new programs, which led to further collaborative work by multimedia-oriented students at the center of which stood Václav Ondroušek from Lucie Svobodová's studio and Keiko Sei's student Daniel Urbanec.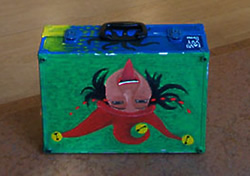 Jan Karpíšek "Painting Suitcase" performance, 2002
The unforgettable free creative atmosphere at the villa which was transforming into an open alternative cultural center was complemented by student events including live Internet broadcasting, concerts, dance and garden parties. The rehearsal room as well as the dark room, which were developed and run on a self-serve basis by interested students and teachers, was equipped by Pavel Fajt with professional sound equipment. In addition to student band practice, the group Herring, Live Herring formed here and the first Pluto albums were rehearsed.


Music studio in the basement of Květná Street (by Ladislav Železný)
This period came to an end with the restitution of the villa in Květná Street. and relocation into a new building in the town center in Údolní Street, which we managed to acquire for the entire Institute of New Disciplines as compensation for the Faculty of Fine Arts, through co-operation with the Rector's Office and the Municipality. As Dean I transformed the former student cafeteria into the Faculty Studio and Gallery. I oversaw the reconstruction of the performance space, television studio, dark room, computer class-rooms, lecture rooms, media archive, video, multimedia and photography equipment storage spaces, teacher rooms and other student spaces which enabled the Department to operate smoothly.
Under improvised conditions, workshops were conducted by performer Skip Arnold (USA) and photographer David Miler (Canada); at that time we went to Vienna to visit the retrospective exhibition "Out of Actions" at the Museum für angewandte Kunst (MAK). We intensified bilateral co-operation with Pavel Liška, Director of the House of Art. The Studio participated in projections at the FLUXUS exhibition, in the performance at the launch ceremony for the book Unix-Posix-Plan 9 by computer expert RNDr. Skočovský, illustrated by graphic artist Vladimír Kokolia.
Among the most important exhibitions ranked that of the new generation of teachers from three Central European Fine Art Schools - Brno, Vienna and Prague, for which the Studio prepared the presentation of my work and that of René Green from Vienna. The most important was, of course, the first public presentation of the Faculty of Fine Arts since its foundation, the exhibition "FaVU - Contemporary Creation" - presenting the creation of all teachers and of reciprocally selected students. The exhibition took up the entire House of Art in September 1999. From the VMP studio Milan Kincl, Zdeněk Závodný, Petr Šesták, Ladislav Železný, Vladimír Vaca, Jana Macenauerová, Marek Mařan, Jiří Havlíček, Vít Kraus and the FILUM/IVL project participated.
FILUM / InterVisionLab
From 1997 the first experimental Internet broadcasts took place at the VPM Studio in Květná Street. The original idea entitled "Filum Terminal" was elaborated on by students Filip Cenek and Zdeněk Mezihorák.
An application for a grant for a project entitled "Multimedia Internet Broadcasting" was formulated under my consultation. The application was continuously re-submitted and has been finally accepted this year. Since 1999 the program layed out in Filium Terminal has been loosely followed by the "InterVisionLab" project. Founding students - Marek Szabó, Ladislav Železný, Zuzana Růžičková and Robert Mořkovský - began to run a physical experimental multimedia space with live studio and outdoor broadcasts and gradually made the video archives of the VMP students available on-line. In the years 2000-2001 the project was presented at the Brno House of Art, at the Rudolfinum and at AVU in Prague.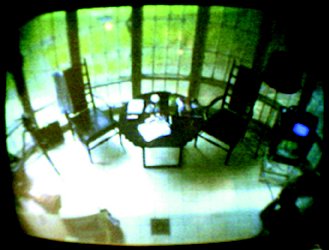 Shot of a live broadcast from the winter garden, Květná Street, 1999
A whole series of live broadcasts from FaVU and from remote events took place, e.g. in support of the French free-sound systems from Zlín - in co-operation with the Moiré Free Association of Artists or the experimental broadcast of "Landscapes" from the roof of the new studios in Údolní Street. The project was developed in co-operation with all the related studios, direct activists were joined by Dušan Urbanec from Video, and Václav Ondroušek from Multimedia. The project is represented by co-ordinator Robert Mořkovský.
PRESENT TIME (2001 - 2002)
With my removal from the post of Dean, this structure dissipated. The Institute was thereafter represented at the Faculty by Peter Rónai, Petr Kvíčala and Richard Fajnor. Keiko Sei and Lucie Svobodová left in 2001. Their posts at the merged Video/Multimedia studio with 24 students and two assistants - Richard Fajnor and Stanislav Filip - was taken over by Peter Rónai, who as a result gave up his position as head of the Intermedia studio to be replaced by Petr Kvíčala. The performance studio, with 19 students continues to function without an assistant. Inspired by these changes, students, led by Pavel Pražák, initiated the foundation of an illegal music studio and requested a grand piano be purchased.

"Exhibition Afternoon" joint performance in the KOVO stand, New Media Exhibition, Cheb 2001
In this first attempt to sum up a decade of the Studio's history, composed of individual fragments and recollections, omissions and mistakes are inevitable. My sincere apologies to those affected in such cases. I do believe, however, that it is a firm foundation for a better future and I express my gratitude to all those who contributed to this end.
Tomáš Ruller 2002